Explore Things to Do in New York City
Lincoln Center
Performing Arts across from the Empire Hotel New York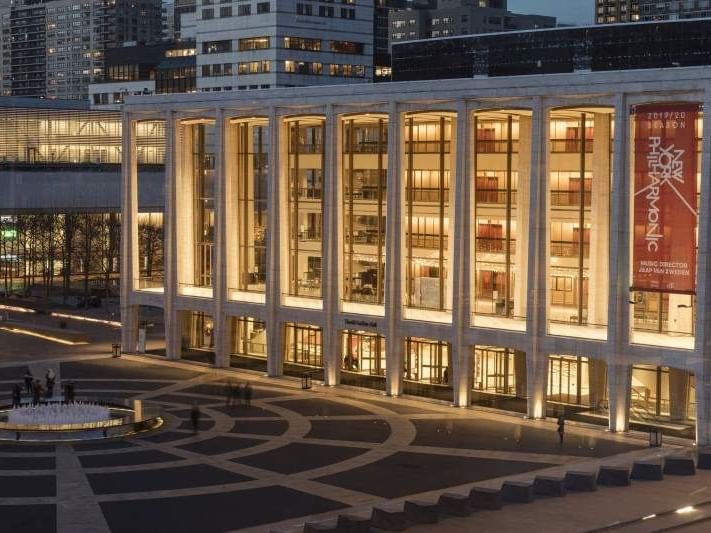 The world's leading performing arts center is home to thirty indoor and outdoor performing venues. The LINCOLN CENTER is home of many internationally renowned organizations including the New York Philharmonic, the Metropolitan Opera, the New York City Ballet, School of American Ballet, and the Juilliard School of Music.
This stunning locale is the epicenter of all things art-adjacent in New York City, and we are honored to share our vibrant location with our Lincoln Center neighbors, directly across the street from the Empire Hotel. Hosting over 5 million visitors each year, Lincoln Center is the mecca of culture in NYC and North America alike.
Lincoln Center has 3.8 acres of public plazas that are 8 am to 12 midnight daily. Their gorgeously designed public plazas provide a refreshing escape with lush greenery, captivating public art, and occasional outdoor performances. At the southeast corner of David Geffen Hall, visitors will find the Welcome Center—a gateway to the entire Lincoln Center campus. Adjacent to their Welcome Center, the Karen and Richard LeFrak Lobby serves as the lively "living room" of Lincoln Center, complete with comfortable seating, charging ports, and free Wi-Fi. With a retractable glass door opening to Josie Robertson Plaza, visitors can seamlessly transition between indoor and outdoor spaces. The lobby's Hauser Digital Wall showcases stunning visual art and live-streamed performances, and inside the David Rubenstein Atrium, a free and inviting space, visitors can relax, explore upcoming events, and enjoy frequent public concerts.
Another notable venue within Lincoln Center is the New York Public Library for the Performing Arts. This renowned research library houses extensive collections on theater, film, dance, music, and recorded sound, along with cozy reading areas and a seasonal outdoor reading room. With its vibrant atmosphere and engaging offerings, Lincoln Center is a hub of energy, creativity, and community in the heart of our neighborhood.
Lincoln Center Plaza 10023 New York United States
Monday8AM - 11:59PM
Tuesday8AM - 11:59PM
Wednesday8AM - 11:59PM
Thursday8AM - 11:59PM
Friday8AM - 11:59PM
Saturday8AM - 11:59PM
Sunday8AM - 11:59PM